St. Claude, Manitoba: Its francophone heritage and its museums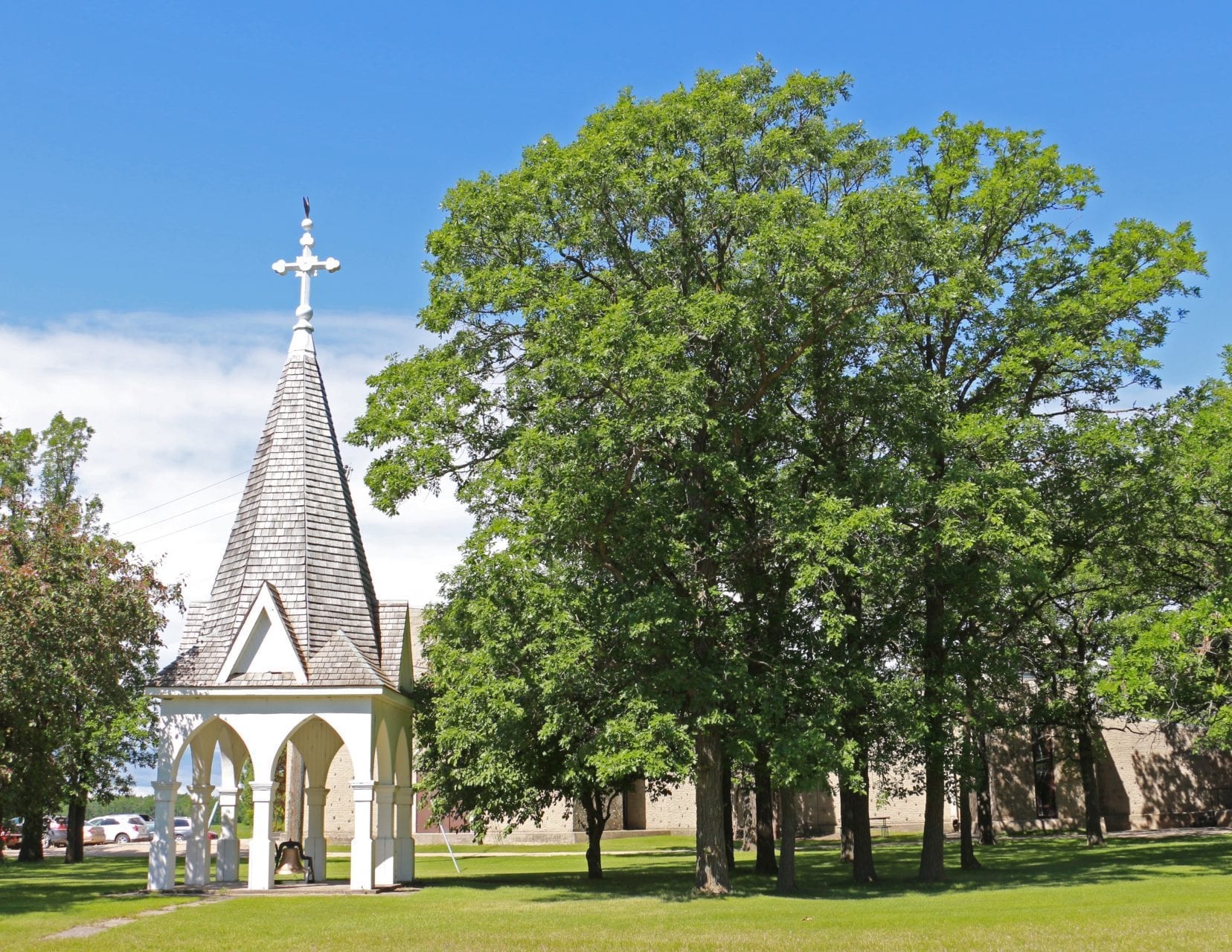 St. Claude is a lovely Franco-Manitoban town located about a hundred kilometres west of Winnipeg, in the heart of fertile farmland. Its first inhabitants came from the Jura region of France in 1892. A pipe-shaped monument surrounded by flowers (the second largest pipe in the world!) is a salute to these settlers and their native town of Saint-Claude, renowned for its pipe manufacturing. The focus of the Dairy Museum, however, is the local dairy industry and its importance in the region. Artifacts on display include a variety of presses, cream cans, butter churns and other items showing how the industry evolved during the 20thcentury. Other buildings in the Museum complex, including a former railway station, a barn, a chapel and an old schoolhouse, feature artifacts depicting rural life of yesteryear. Another heritage building of interest in St. Claude is a regional jail dating back to 1912. This stands in sharp contrast to the Modernist church, designed by renowned Franco-Manitoban architect Étienne Gaboury in 1964.
Learn more…
Deep francophone roots and a vibrant community
Helping to preserve and perpetuate the francophone roots of the town's 600 or so residents is its French-language primary school, Notre-Dame-du-Sourire. The community's vitality is further evidenced by its tidy landscaping, beautiful gardens and sizeable sports and cultural facilities. In addition, the town hosts a winter carnival in February, Plaisirs d'hiver, featuring an evening dance, a torchlight procession, sleigh rides and maple taffy on snow. Outdoor winter activities abound, with an outdoor rink as well as a network of snowmobile, snowshoeing and cross-country skiing trails to choose from. For summer recreation, only steps away are a softball field and parks with playgrounds. The nearby campground, Camping des Baies, on the shores of Lac Boissonneault, offers swimming and watersports. But tourists are drawn mainly to the local museums.
Showcasing St. Claude's heritage and identity
In addition to its huge pipe, unique to St. Claude, and its deep French and French-Canadian roots, the Dairy Museum sets the town apart. Dairying, still a very active industry in the area, was chosen as a singular theme for a local museum by the St. Claude Historical Society, in response to a call from the provincial culture and heritage department. Founded in 2000, the Manitoba Dairy Museum owes a big debt of gratitude to Raymond Philippot, a retired local dairy farmer. As a result of his commitment to the project, Mr. Phillipot received a Manitoba Lieutenant Governor's Award in 2016 for his contribution to the preservation and promotion of municipal and provincial history. In his extensive travels around the province, Mr. Phillipot not only collected a multitude of artifacts, he took photographs of a wide range of barns and cattle sheds that are also on display in the museum.
Another of St. Claude's preservation projects involved converting the former Canadian Pacific train station into a pioneer museum featuring many heritage objects, including  a barber's chair, lamps, a telegraph and Canadian Pacific logbook, as well as military memorabilia that belonged to local veterans. Nearby is the Bell School Museum, with a display depicting school life in pioneer days, and a former chapel featuring religious artifacts from the town's first two churches. Recently moved to the same site is the first barn built by Guillaume Célestin Trémorin around 1925, designed to stable horses while their owners were shopping or attending church in town. The St. Claude Historical Society also organizes demonstrations of butter, ice cream and yogurt making using traditional equipment.
Dedication to safeguarding heritage
The St. Claude Tourist Office is housed in the area's first jail, built in 1912. Now the Gaol Museum, this building is a rare surviving example of an early stand-alone community gaol in Manitoba. Since 2005, it has been a municipally designated historic site in the Rural Municipality of Grey. The efforts of local residents also saved the bell tower of an earlier church that had been demolished. The bell tower is now on display on the grounds of the town's existing church. These initiatives show how dedicated the residents of St. Claude are to preserving their cultural heritage. At the same time, they are sufficiently forward-looking to have welcomed an avant-garde new church, designed by Étienne Gaboury, which has now become another of St. Claude's cultural assets.