Festival acadien de Caraquet: a definite must!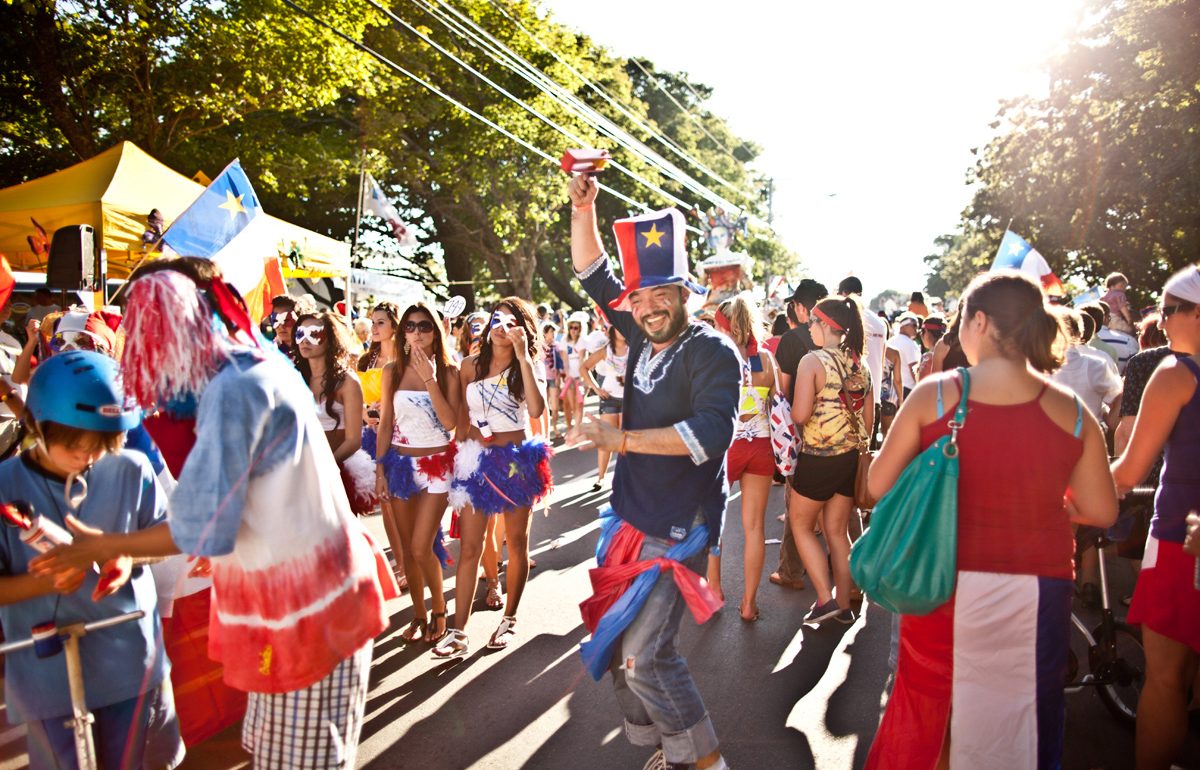 The Festival acadien de Caraquet has been celebrating Acadian culture since 1963. In the first two weeks of August, Caraquet celebrates song, music and poetry. Indoor and outdoor shows, the blessing of fishing boats decorated with pennants, film screenings, a large fireworks display and animated events for children are held in some 20 different places. The culminating point is the big, noisy and colourful Tintamarre of August 15, National Acadian Day. In addition to delighting its many visitors, the Festival acadien de Caraquet greatly contributes to developing and spreading Acadia's cultural influence.
To learn more…
Discovering, celebrating and developing Acadian culture
Since it was first created, the Festival acadien de Caraquet has been contributing to the development of Acadian arts and artists. The festive atmosphere at Caraquet during this major event shines a spotlight on Acadia, thanks to the joie de vivre and optimism of Acadians and those who come to visit them.
The two festival ambassadors, Évangéline and Gabriel, chosen randomly among students who volunteer for the roles, embody Acadian hospitality throughout the event. These figures are the most emblematic of the Acadian Deportation. During the festival, they thumb their noses at history, demonstrating the capacity of Acadians to rejuvenate themselves and celebrate their renaissance. The Gala de la chanson de Caraquet is an excellent example of this. It gives young amateur artists a chance to reveal their talent and to develop it in training workshops at the event. Many artists who participated in this gala in the past are today making a career for themselves, thereby proving that this gala can be a springboard to greater things. In the same spirit, the Acadian Poetry Festival, incorporated into the Festival acadien de Caraquet, draws attention to literature and helps new talent to blossom.
A growing festival
In 1963, Caraquet residents wanted to celebrate their roots by creating a local festival. This event quickly grew. Theatrical performances were soon added to the traditional blessing of the fishing boats, the town's livelihood. The first cabarets made their appearance three years later. In 1969, the Gala de la chanson crowned its first winners. Then, in 1979, the first tintamarre was held in Caraquet. Over time, the Festival has always attracted more and more visitors.
Local and regional participation is a priority, however. A home and shop decoration competition gives the town a festive look. The homemade boxcar races, divided into a number of categories, from young people aged 8 to 11 to local mayors, are always popular. Thanks to performance tours designed for seniors, no age group is left behind. Workshops to learn how to make costumes and "noisy objects" before the Grand Tintamarre on August 15 enable local experts to share their know-how.
Today, broad programming focusing on Acadian artists also includes stars from other Francophone regions of Canada and Europe. Wild parties delight partygoers, classical, jazz and singing performances please other audiences, and film screenings and fireworks complete the wide range of activities. After five decades, the Festival acadien de Caraquet, which every year welcomes hundreds of artists and over 100,000 visitors, has definitely made the grade as a major attraction.
A historic reversal
Between 1755 and 1762, the Acadians were hunted down and deported by the British army. Although they have kept a painful memory of this event, they are delighted today with the success of their improbable survival. They celebrate their resilience, in particular during the must-see Festival acadien de Caraquet and the Grand Tintamarre that closes the event, organized for the first time to celebrate the 375th anniversary of the founding of Acadia.