Canadian Museum of Immigration at Pier 21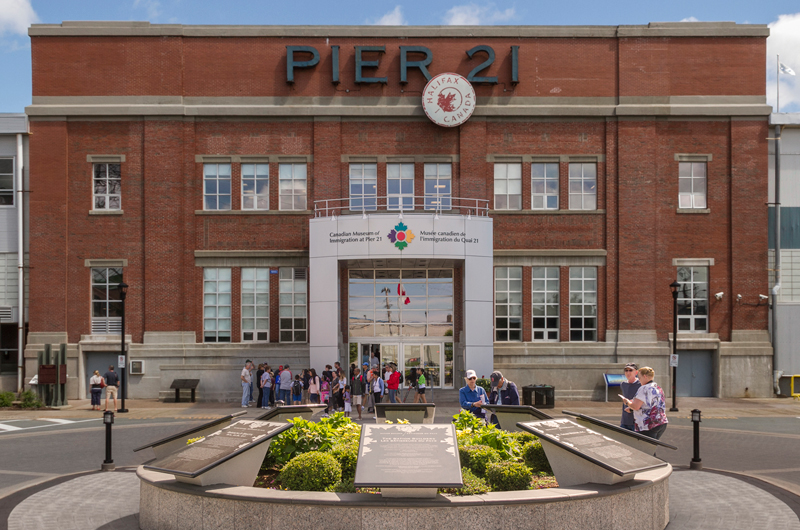 The Canadian Museum of Immigration at Pier 21
The Canadian Museum of Immigration at Pier 21 is located in the national historic site at the Halifax seaport where nearly one million immigrants landed in Canada from 1928 to 1971. Today, as Canada's sixth national museum, we share the ongoing story of immigration to Canada—past to present, and coast to coast. Our exhibitions will immerse you in the immigration experience and allow for a deeper understanding of how newcomers shape our country. Our staff and collections provide opportunities to discover the countless journeys to Canada, and even find your own family's connection to the story.
Countless Journeys. One Canada.
Located within this historic Gateway to Canada, the Canadian Museum of Immigration at Pier 21 contains two core exhibitions. The Pier 21 Story exhibition examines the years 1928-1971 when the former immigration shed welcomed nearly one million immigrants to Canada. With full-scale replicas echoing with real first-person accounts, period costumes, touchable exhibits and interactive displays, you can truly "walk in the footsteps" of our immigrant ancestors.
Both sides of the story
Our second core exhibition, The Canadian Immigration Story examines 400 years of immigration to Canada from first contact to present day. With a detailed timeline dividing the entire length of the first room, this exhibition does not shy away from moments when Canada was not the beacon of welcome we often imagine ourselves to be. Exclusionary immigration policies and regulations that made it difficult and sometimes impossible for groups to come to Canada are carefully unpacked with visuals and artifacts. The exhibition continues with examples of the many contributions and impacts that immigrants had and continue to have on our evolving country. Throughout, you will encounter a variety of first-hand accounts of immigration as part of displays, and compiled for a deeper dive in the comfort of the BMO Oral History Gallery.
Finding the connection
Compliment the entire experience with a visit to the Scotiabank Family History Centre. Knowledgeable staff can assist you in uncovering your own family's immigration story, as well as with broader genealogical searches. See your family name in the immigration records, unlock a family mystery or print a keepsake photo of the ship that brought you or your ancestors to Canada. The experience in the Scotiabank Family History Centre can be moving and enlightening.
Bilingual experience
With bilingual displays in each exhibition and guided tours in French by request, the Canadian Museum of Immigration at Pier 21 can be a French, English or Bilingual experience.
Local treasures and worldly goods
Our Museum Gift Shop is creatively curated with unique products from local artisans and goods from around the world. At the Museum Gift Shop you'll also find our popular "Pier 21 Collection," the perfect keepsakes and mementos to remind you of your experience here.