1000 Islands Helicopter Tours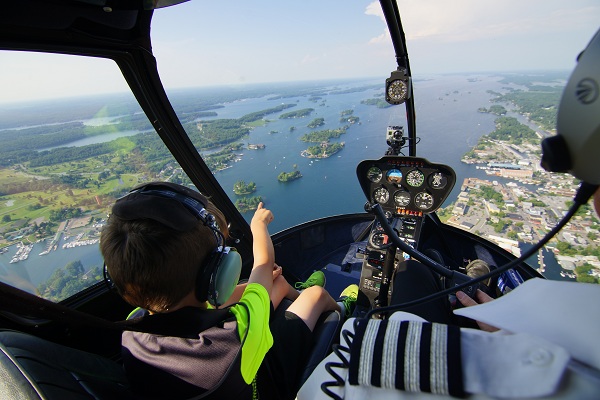 Experience all that the Thousand Islands have to offer, first class! 1000 Islands Helicopter Tours offers the most spectacular views year round from planned tours, custom charters and life-changing excursions. Enjoy the beauty, romance, and grandeur of the Thousand Islands that you can only experience by seeing it from the air. Feel the excitement as you lift off and fly away on the journey of a lifetime from our state-of-the-art facility, conveniently located right off the 401 in Gananoque, Ontario.
Labelled a Canadian Signature Experience by Destination Canada, 1000 Islands Helicopter Tours offers an exciting new alternative to viewing the spectacular Thousand Islands region, including tours to Boldt and Singer Castles. Their brand new, multi-million dollar facility boasts a beautiful visitor's centre with ample parking, barrier-free access, plenty of restrooms and high quality products in our gift shop. Our Tours are available with pre-recorded audio in French, Chinese, Japanese, Spanish, and German.
Archaeological evidence indicates human activity in the area 9,000 years ago. A favourite camping ground of the Iroquoians before European exploration, this part of the great river highway to the interior was used by explorers, missionaries, fur traders and soldiers. Colonial military conflicts between Britain and France (Seven Years' War), and later between Britain and the U.S. (War of 1812), were responsible for many place names, such as the Navy, Admiralty and Lake Fleet islands. Endymion, Camelot and Mermaid islands are named after gunboats; others, such as Gordon and Stovin, were named after military commanders.