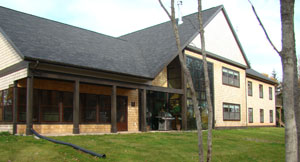 The Centre Goéland, meaning Seagull Center in French, is a unique Prince Edward Island Wellness and Event Center located on a secluded 10-acre site that boasts peaceful walking trails and overlooks the shores of the Northumberland Strait.
It accommodates groups of up to 48 guests in an elegant, wheelchair-accessible inn that offers modern and tasteful facilities and is equipped with laundry facilities, high-speed wireless internet, presentation screens, and sound system.
We also provide our guests with a fully-equipped commercial kitchen that they may use or they can choose from a wide variety of catering options that can be tailored perfectly for their needs.