The Aberdeen Cultural Centre, a Francophone artistic hub in Moncton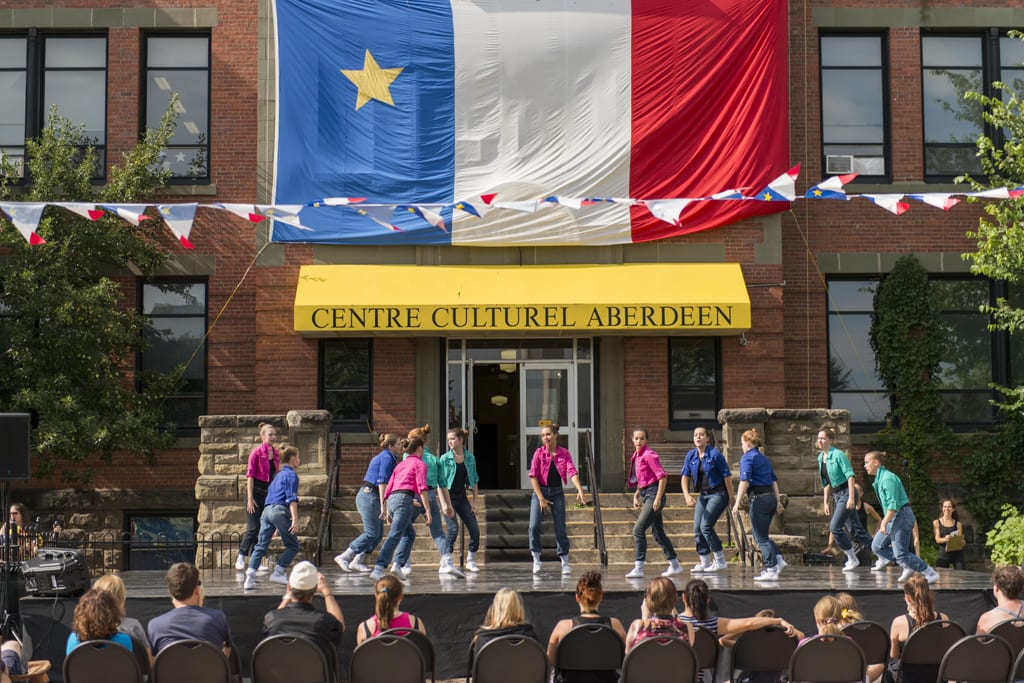 The Aberdeen Cultural Centre, founded in 1993, is a major creative and collaborative centre for Francophone Acadian artists in Moncton. Located close to the University of Moncton, the Centre gives expression to the desire of young creators to explore new imaginary and social territories, and thus to contribute to renewing the Acadian identity. This former school building houses some 20 cultural businesses and organizations, artists' studios, a performance hall and a publishing house, art galleries, the Association acadienne des artistes professionnel.le.s du Nouveau-Brunswick and a restaurant. The Aberdeen Centre promotes sharing and brings new cultural initiatives into being. It fosters the dissemination of original works and offers various activities to further artistic education among the public.
To learn more…
Showcasing Acadian culture
The heart of the Aberdeen Centre, housed in a former Aberdeen school building purchased and redeveloped by an artists' cooperative in 1993, is its 150-seat performance hall. A variety of productions are presented, including dance performances, literary demonstrations, visual arts events, plays, musical productions, film screenings, lectures and receptions associated with arts and culture. Theatre troupe L'Escaouette, entirely dedicated to the creation of original works and founded in 1978 by University of Moncton dramatic arts graduates, performed in this space until 2004, before moving into larger premises located close-by. Many poetry evenings have also left their enchanted ghosts in this hall.
After the building was acquired, the members of the cooperative chose French as the "official language" of this new space, dedicated to the creation, collaboration, dissemination and promotion of Acadian artists who put down roots at the centre. In a city like Moncton where the majority of the population is Anglophone, this kind of public space where artists could create and share in French was vital to consolidating the Acadian identity and developing a sense of belonging. This symbolic dimension has contributed to extending the influence of the Aberdeen Centre throughout the Maritimes. Today, the centre is increasingly looking to play the role of mediator between Moncton's Francophone and Anglophone communities, thanks to the Acadian artistic community's dynamism and confidence. For example, while French is always predominant in the centre's activities, advertising of these initiatives is bilingual.
Benefits of the Aberdeen Cultural Centre
This incubator of talent, initiatives, organizations and artistic companies is behind a number of cultural influences that have developed in Moncton and New Brunswick. Examples include, at the Centre itself, three art galleries; Les Brumes du coude, a restaurant that is reinventing the Acadian culinary heritage; and the Association acadienne des artistes professionnel.le.s, which offers development, information, documentation and publication services. The training and events that the Centre provides for people of all ages, including children, also makes art more democratic and prepares the next generation of artists.
The centre is also home to DansEncorps, a dance company that creates choreographies and teaches dance. DansEncorps also organizes Atlantic Dance Festival Danse Atlantique. Film Zone set up the Festival international du cinéma francophone in Acadia. Phare Est, a film producer, plays an important role in the development of Acadian cinematography, with some hundred productions to its credit. The idea for Festival Frye Festival, the only international literary festival of this magnitude in Canada, originated at the Aberdeen Centre in 1999. (Internationally renowned literary critic Northrup Frye spent his youth in Moncton and studied in this school). Publishing house Éditions Perce-Neige, founded in 1980, supports Acadian literature. Several other productions of artists, organizations and businesses housed at the Centre inspire and enrich cultural life in many different ways.
A dynamic center
In the heart of the city of Moncton, the Aberdeen Cultural Centre is a welcoming place for Francophone creation and exchange, where hundreds of cultural workers, artists and art lovers meet to share their passion. The centre has acted as a bridge between generations of Acadian artists and has contributed to the blossoming and diversification of contemporary art in Acadia. Through its capacity to bring people together and inspire new collaborations, the centre continues to be a leader on the artistic scene and in the cultural life of Moncton and New Brunswick.