Edmonton's La Cité francophone: A Showcase for French Language and Culture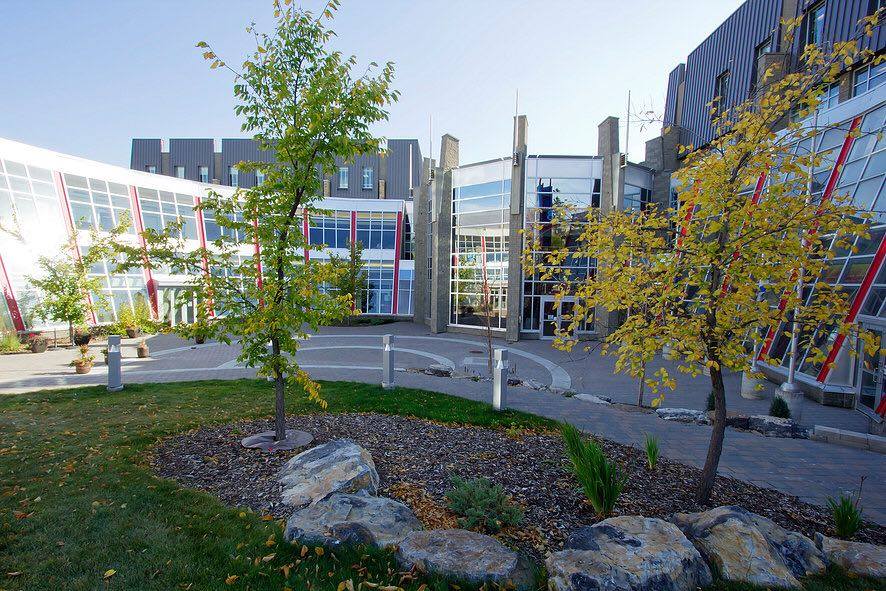 Since 1997, Edmonton's La Cité francophone has been a place for the city's francophone residents to get together, grow and develop, and promote their language and culture. In a bright and modern building, which was expanded in 2010, some 30 organizations and businesses combine their efforts and joie de vivre to invigorate the francophone community and give it maximum exposure. Undoubtedly unique in Canada, and perhaps long overdue, this innovative pooling of educational, cultural, social, community and economic resources is an ideal way to support minority communities—a dynamic and supportive approach that has done much to boost the vitality of Bonnie Doon, Edmonton's new francophone district.
Learn more…
A Visit to La Cité francophone
The big glass building that houses La Cité francophone hosts a Sunday farmer's market (indoor in winter and outdoor in summer) where local producers offer a wide range of fresh produce in a relaxed setting. The building is also home to the restaurant and coffee shop La Bicyclette as well as a small performance hall, a rotunda, a terrace, multi-purpose areas, and a catering service to handle any type of special event. Galerie Cité uses the building's public spaces for visual arts workshops and events. The annual Flying Canoë Volant festival, held at La Cité francophone in early February, is easily Edmonton's most popular French-Canadian/Métis themed event.
La Cité francophone's key mission is to bring together a range of organizations, services and activities to strengthen the francophone community, support its development, raise its profile, and contribute to its positive image. A comprehensive and diverse focal point for Edmonton Francophones, La Cité francophone's organizations and businesses include: the Association canadienne-française de l'Alberta (ACFA), the official representative body for all Franco-Albertans; La Girandole school of dance; two medical clinics; Accès emploi, an employment service for Francophones and Francophiles; the Association des juristes d'expression française de l'Alberta ; the Centre d'accueil et d'établissement du Nord de l'Alberta, which helps francophone newcomers settle and integrate in the region; the Centre de développement musical; the Conseil de développement économique de l'Alberta ; Le Franco, the Franco-Albertan newspaper; the Fédération des aînés franco-albertains ; Francophonie jeunesse de l'Alberta ; L'UniThéâtre, Alberta's only professional francophone theatre company; and many others.
Pulling Together to Help One Another
Until the 1960s, Saint-Joachim parish was the foremost meeting place for Edmonton's social and professional elite. While the Catholic Church long played a key and unifying role in Western Canada's francophone communities, it is less able to now. After World War II, the creation of suburbs forced francophone residents of Saint-Joachim parish to relocate to Bonnie Doon at the city's southern edge. Collège Saint-Jean—which became University of Alberta's Campus Saint-Jean and the Centre collegial de l'Alberta, the province's only francophone institution of higher learning—has been there since 1911. By choosing a site directly across from it, La Cité francophone has helped breathe new life into this French-speaking area.These francophones are more diverse than in the days of the Saint-Joachim parish. The province's economic prosperity has drawn French-speakers from other Canadian regions and from some 80 other countries in the world (mostly from Africa and the Caribbean), adding to the list of cultural benchmarks for Franco-Albertans. La Cité francophone's open, vibrant and diverse environment promotes the sharing of Alberta's French-Canadian and Métis roots and helps address changes they may face in today's multicultural context.
More than a million people live in Greater Edmonton, some 2.2% of whom are native French speakers. However, a much higher number (more than 7%) are conversant in French. La Cité francophone relies on this pool of Francophiles to promote the French language and culture.
Community Governance: A Healthy Tradition
Alberta's francophone communities have long understood the vital need to pool efforts and resources. To counter the forces of assimilation, Franco-Albertains have rallied together since the early 20thcentury (notably in Edmonton, which has had a Saint-Jean-Baptiste Society since 1894). The Church has also brought various associations to Alberta (Les Artisans in 1911, Société du parler français du Canada in 1912, Cercle Jeanne-d'Arc and Cercle Dollard-des-Ormeaux some years later, etc.). In 1925 these all merged into the Association canadienne-française de l'Alberta (ACFA), a provincial body that would play a key role in ensuring the survival of French in Alberta. La Cité francophone is an innovative present-day example of this strategy of teamwork and unity.